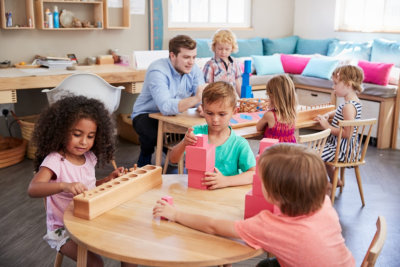 History of Little Peoples Day Care and Kindergarten
We want to share a little about our school. You are presently in one of the best academic settings in Chicago. Little Peoples Day Care and Kindergarten is a Private School that first opened its doors in 1979. We have been around for a long time. We moved to this building in 2000. We were at another location when the building was sold, and the owners did not tell us. Then, the new owner came in and asked us to leave. We had nowhere to go. Our children were homeless. We went into the community — asked for help. Everyone in the neighborhood, organizations, parents, and neighbors were on the lookout for a new home for us. Our building at 7428 N. Rogers was found when one woman came to us and told us she saw a building we should check out. We went to look at the building. The grass was up to our knees. We went to the Alderman's office (Joe Moore) to try to find out who owned the building. Alderman Moore had his staff research it — he called me back with the name of the owners. It was owned by the Association for Retarded Adults. We contacted their office and set up an appointment. The Developers in the neighborhood saw them first. We asked if they would care about the children first. The Developers would just tear the building down and put up condos. The organization met and answered our request. The building was sold to us as is. My brother stayed in the building in the cold so no one would break-in. This building became a "labor of love." The community, teachers, and family members all came to help put this building together so our children would have a school to go to. People work during the day, evenings, and weekends so we can provide the quality learning our children receive daily. We purchased the building in 1999. It took us a year to complete it. We moved in August of 2000. In five years, our school won four community awards. One award was for the building. The award was given at the Civic Opera building. It was a citywide award. Alderman Dorothy Tillman was given a citywide award at the same time. We have been on CNN News & written up in Crain's Business Magazine. Our new address is 7059 N Greenview Avenue Chicago, IL 60626.
Over the years, our children came back to visit. Even though they completed their schooling here, the past students remember Little Peoples Day Care. We have had several of our graduates skip up a grade. We have had graduates that participated in citywide spelling bees with children of a higher grade level competing. We are proud of the children that learned discipline and good academic standards. We are proud of the children that learned to think positively and know they can do it from our specialized teaching of "positive thinking." Children learn affirmations as "I can do it! I believe in myself! I know I can! I love myself just the way I am!" We are proud to say we have developed a system of teaching success in our children.
Little Peoples Day Care serves children ages 2 to 13. Little Peoples Day Care offers parental training on successful thinking and good family practices. We care and want to do our share to make a difference in our world. Be proud that you are at one of the best schools around. Help us to continue to make a difference in our community and our world. Our children are our future. They learn academics, positive thinking, and Spanish. Our children are our "angels of success." The future is theirs! We are the "village to help raise a child!!!"
School Specialties
Little Peoples Day Care specializes in providing childcare in Chicago, Illinois. Children learn Spanish and Junior Achievement. We also specialize in Parent Training in Parenting Skills, Positive Thinking Skills, Job Skill Development, as well as Moral Training for the children's skill development. We also offer programs for High School students to work with service-learning hours.